Elevate Your Walls
Discover a symphony of creativity as we proudly unveil our carefully curated artprint collections, each harmoniously blending a diverse range of themes to stir your imagination and captivate your senses
Hellenic Radiance
Collections Inspired by Greece
Step into the enchanting world of Greece and immerse yourself in the mesmerizing beauty of its culture, heritage, and the unique luminosity that bathes its landscapes.
Explore now!
The "Hellenic Radiance" selection of wall art collections is a breathtaking homage to Greece, meticulously curated to celebrate its timeless allure and profound impact on art and aesthetics.
Rhapsody of Abstract Emotions
Abstract Wall Art Collections
"Rhapsody of Abstract Emotions" is a unique selection of our Wall Art Collection that transcend the boundaries of traditional art, allowing you to experience the beauty of abstraction through the evocative power of words and visuals.
Immerse yourself in the captivating world of abstract art, where colors dance and forms intertwine in a mesmerizing symphony of emotions.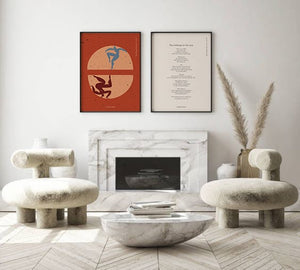 Verses Unfolded
Collections of Narrative Artprints Inspired by Poems
These artprints born from the magic of poetry, where lines and stanzas inspire vibrant visuals and evocative scenes. From epic adventures to tender moments of eros, and from dreamscape fantasies to poignant reflections on life, these illustrations capture the essence of the poems that birthed them.
Explore more
Step into a world where poetry and art intertwine to create a captivating symphony of storytelling. "Verses Unfolded" is a selection of narrative wall art collections that breathe life into poetic verses, each artwork weaving a tale that resonates with the heart and stirs the imagination.
Architectural Perspectives
Artprints Inspired by Light, Shadow & Geometry
Step into a realm where architecture becomes an artistic canvas, and the interplay of light, shadow, and geometry gives rise to captivating symmetries. "Architectural Perspectives" is a mesmerizing selection of visual collections that celebrates the profound beauty found in the built environment, where man-made structures blend harmoniously with the natural world.
Objects of Intimacy
Selection of Still Life Artprints Inspired by Daily Touch, Wonder & Emotion
"Objects of Intimacy" invites you to see the extraordinary in the ordinary and find beauty in the commonplace. Each artprint reflects the stories and emotions we weave into the objects that surround us, reminding us that our daily encounters are infused with meaning and sentiment.
Whether you're an art enthusiast, a sentimentalist at heart, or someone who revels in the details of daily life, this selection of Wall Art will stir your soul and leave you with a newfound appreciation for the everyday wonders we often take for granted. Let these artprints be a gentle reminder of the intimate moments that shape our lives.
Nature's Embrace
People & Plants Artprints
Immerse yourself in a world where human forms intertwine with the lush beauty of botanical realms in "NATURE'S EMBRACE".
This captivating artprint selection unveils a symphony of colors, shapes, and lines that blend abstract representations of people and plants, harmoniously uniting the essence of humanity with the wonders of nature.
Everyday Epiphanies
The Ultimate Gift Celebrating Daily Moments
In the tapestry of life, it's the little moments that often leave the most profound impressions. "Everyday Epiphanies" is a heartfelt selection of visual artprints that tenderly immortalizes the beauty of daily moments, transforming ordinary occurrences into extraordinary memories.
Each collection captures the essence of life's simplest pleasures, reminding us to cherish the moments that often pass by unnoticed. From the first rays of dawn to the hushed tranquility of dusk, and from shared laughter with loved ones to the solitude of personal reflections, these artprints breathe life into the stories of everyday existence.
I recently redecorated my home office, and the artprints from 11 Modern Muses were the perfect finishing touch. The collection of textprints and poemprints resonates with me on a personal level and keeps me motivated during work hours. The high-quality paper and print resolution showcase the attention to detail that went into creating these pieces. I highly recommend their wall art collection to anyone looking to create an inspiring and artistic space.

— 

Anna P.
I wanted to surprise my partner with a thoughtful gift, and the poemprints from 11 Modern Muses were just what I needed. The heartfelt verses and romantic imagery made for a truly sentimental present. The ordering process was simple, and the customer service was incredibly helpful in assisting me with my choices. My partner was moved to tears when he saw the beautiful poemprint hanging in our bedroom. Thank you, 11 Modern Muses, for helping me create a memorable and heartfelt gift!

— 

Eirini A.
The artprints I ordered from 11 Modern Muses exceeded my expectations! The level of detail in each print is incredible, and you can tell Alexandra is very talented Artist, Poet and Artist. I went for a black and white gallery theme, and the monochrome pieces add a touch of elegance to my bedroom. Will definitely be purchasing more for other rooms in my home soon.

— 

Petros P.
I absolutely adore the wall art collections I purchased from 11 Modern Muses! The quality is top-notch, and the colors are so vibrant and true to the online images. They arrived carefully packaged and in perfect condition. I chose a mix of abstract and greek-themed prints, and they look stunning together in my living room. I've received so many compliments from guests; I couldn't be happier with my purchase!

— 

Athanasia S.